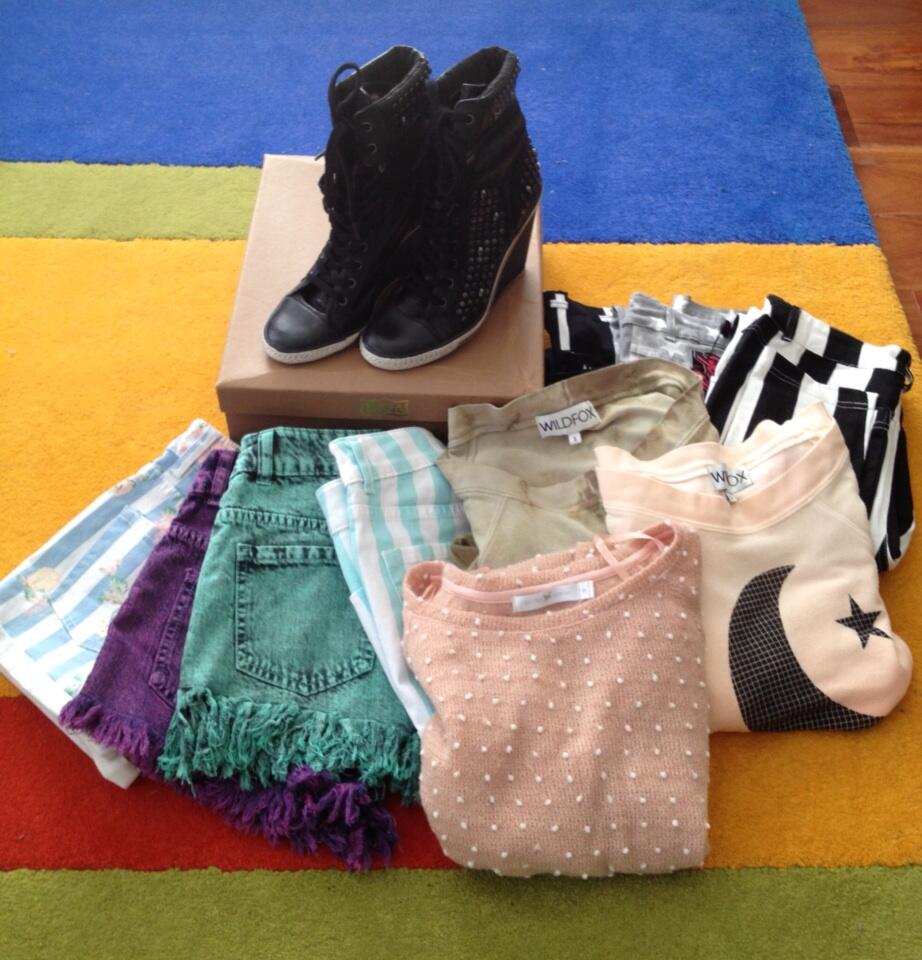 Wow , it has been awhile since I updated huh ? I really have no defence as the last month of summer really flew by as though some sadistic Time Goddess decided to purposefully accelerate it just to have us students wail and cry that they didnt get to accomplish things on their Summer To-Do list .. myself included . Where oh where did it go , I still needed to go to IKEA ! Not to mention obtain that Miranda Kerr body hahaha . In any case , I've decided to showcase the things that I collectively purchased over the Christmas period. Normally I dont buy anything as even on sale , everything is still ridiculously expensive (ahh , my cheapass-edness at its finest LOL) or just not worth the money (cough , well , that mentality hurled itself out the window this year .. curse my working in a shopping centre , you always know when there's a good sale, hmph) . This is going to be a two part series otherwise the post would be even more lengthy. A thrift & a retail haul, just scroll down if you wish to skim through the pictures.
Ironically , I was the one out of my friends that wholeheartedly declared that I wasnt going to take advantage of the sales period , as A) twas not worth it & B) Currently saving my money to go to America at the end of this year =) , oh how that bit me in the ass . I actually bought a lot more clothing items over the summer but it would've made for an extremely lost post so I decided to split it . Besides I'm a lot more excited for the other haul as it consists entirely of opshopped/thrifted items . Yup, I am utterly on the thrifting bandwagon =) and I dont see why that should be scorned , if I can buy things that are less than $5 & it looks friggen awesome , with NO absolute signs of wear, hell, I'll buy it .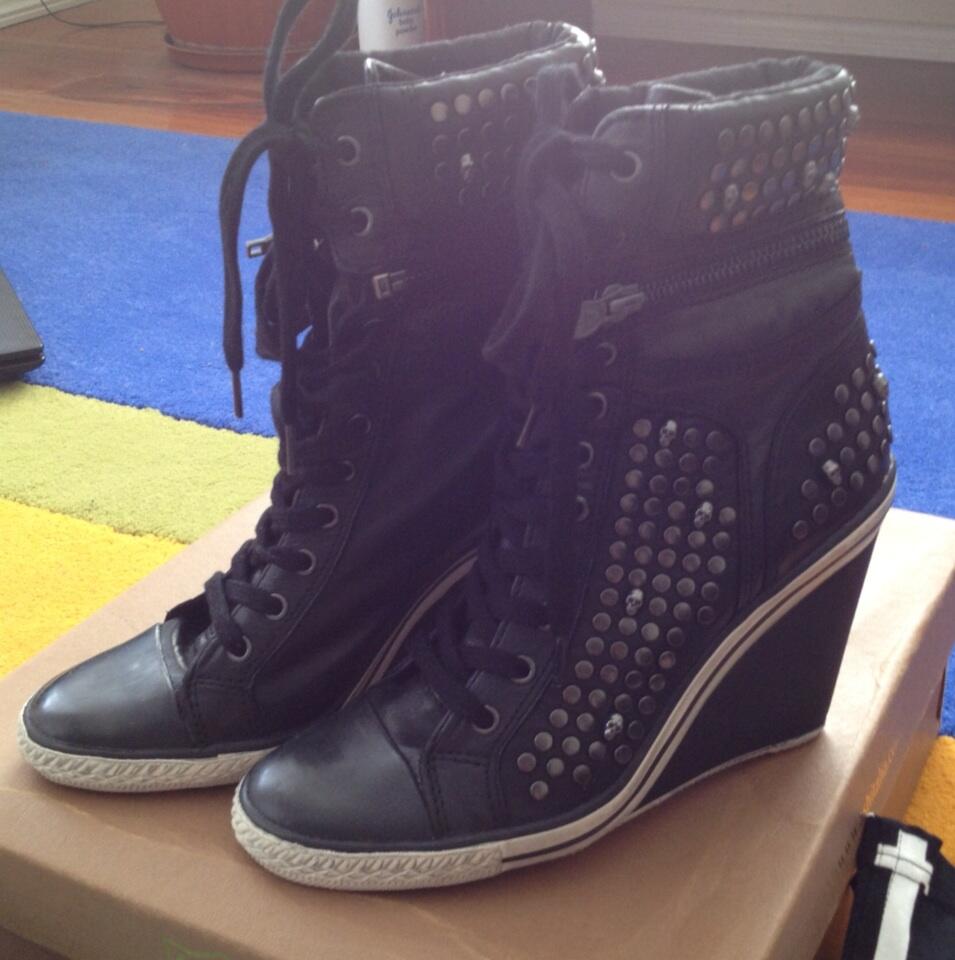 Ash Shoes , RRP : $269 , $60
Interesting story as to how this came to be within my possession actually . The store that I bought these in , Jade & Belle , they're not a brand but rather a store that carries many high end Australian designers as well as Wildfox , originally had them selling for half price so around $134.50 . This was during the earlier days of Boxing Day sales and I was initially hesitant to go into the store as from past experience I would have to sell my liver and that wouldnt even buy me one of the skirts ! But then I saw that obnoxiously large 'SALE' sign and I thought .. COULD IT BE ?! This was the first time that I ever saw that they had a sale , but even so , most things were still out of my price range hahaha . Back to the story , since they were half price and they werent cheap but I guess , fairly inexpensive for that brand so I decided to cough up the money . The thing was , they only had a size 10 , so I was able to walk away with most of my money still intact ... for the time being . A few weeks later , I walked into the store and saw that dreaded sign ... $60 for all footwear . I think my jaw dropped to the floor and miraculously , those shoes were right there in the display with only two sizes , the size 10 and .. and ... my size ! Size 7 ! I think I ran for the counter and was so tempted to knock away the lady in front of me because I was about to be late for work ! And now ... in my very scant show collection , they look rather badass and unlike your typical sneaker wedges so they were worth the dare I say it ... splurge .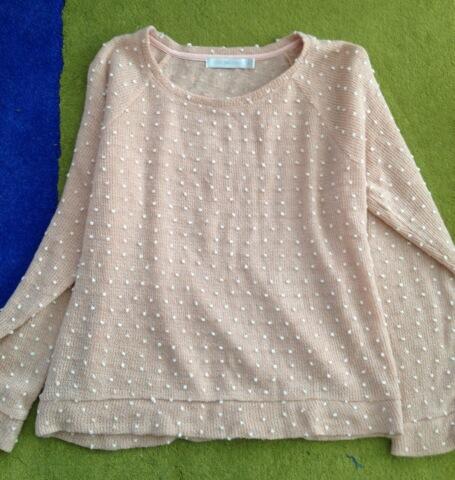 Pastel Pink 3D Polka Dotted Jumper - Quirky Circus by Mink Pink . RRP: $49.95
Okay , not a sale item but a full retail priced one . So around Sydney , there are a lot of stores selling Korean style fashion , extremely feminine and cute , pastel and frilly bows , lace and .. well you get the idea . This reminded me of such a jumper that I would often see around usually retailing for
$80+ .
Although I like it yes , and
technically
it is a good deal in contrast to the no branded,
extremely thin
jumpers .. it still is a lot of money . Originally I tried on a size 10 but thought that it looked
wayy
too oversized on me and was about to give up on it when I noticed a retail assistant putting the exact same jumper on a mannequin . I think time slowed and I may or may not have done the dramatic movie cliche ' WAIIIITTTTTT , what size is that ?! ' hahaha , just joking , I'm not that desperate to fill up my wardrobe . He informed me that it was a sz 8 and I think I internally gasped . I still reluctantly handed over my bank card though hahaha :X . You should never , ever , ever go shopping with one of my friends if you value your money , she encourages you to buy things , much to the displeasure of my wallet hahaha .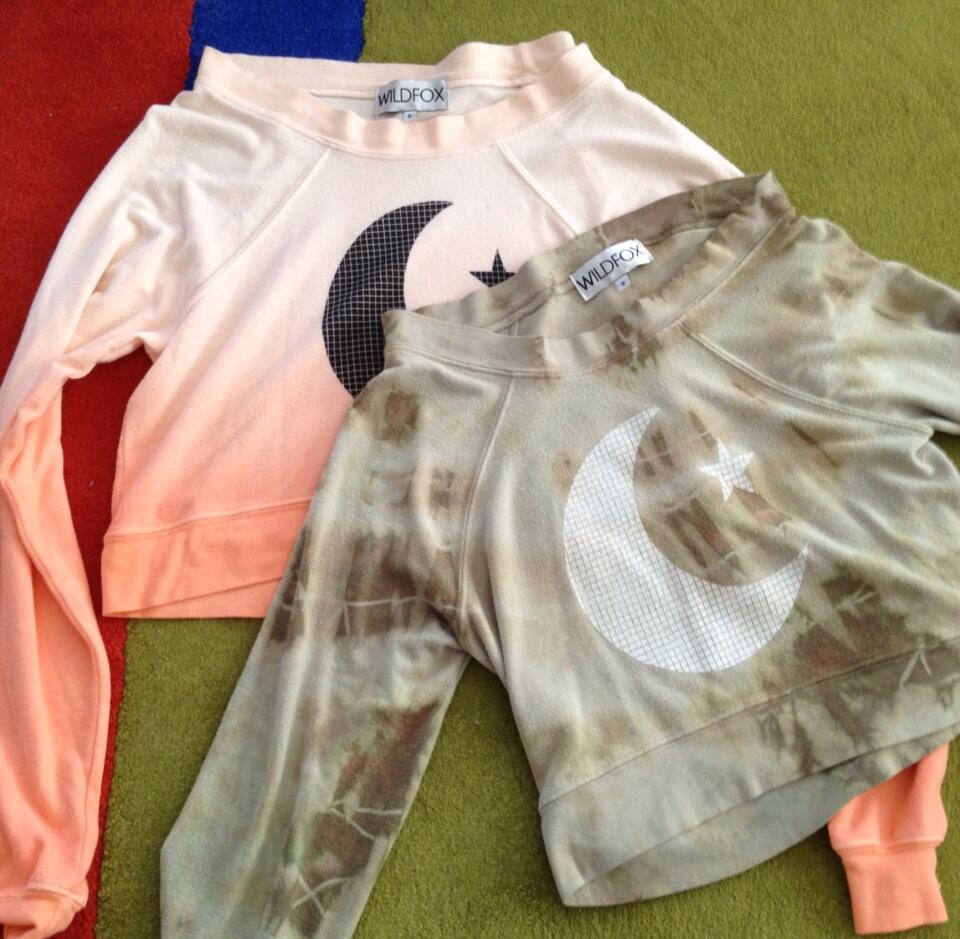 Ashbury Moonshine Jumpers - Wildfox . RRP: $149 . $75 $60 $20 EA
I've always coveted Wildfox jumpers particularly for their quirky (If you read my blogs in months to come you may notice how that trait appeals to me hehehe ) & luxuriously soft design . I should really stop going into Jade & Belle though .. I think by now the retail assistants have become quite familiar with me LOL , especially since I always go in wearing my work uniform . I know .. I should've just stopped at one but , but .. two jumpers at that price was a fraction of the normal retail price .. & a LOT cheaper than what I've seen on eBay as well ... I know , I know , I'm weak and pathetic AHAHAH . Next on the list , that soft serve smiley face jumper =) , these are cropped jumpers so it'll be awhile before I'm comfortable with wearing them out but luckily , the weather hasnt really started to freeze over yet . But knowing the unpredictability of Sydney weather , that time would more often come sooner rather than later .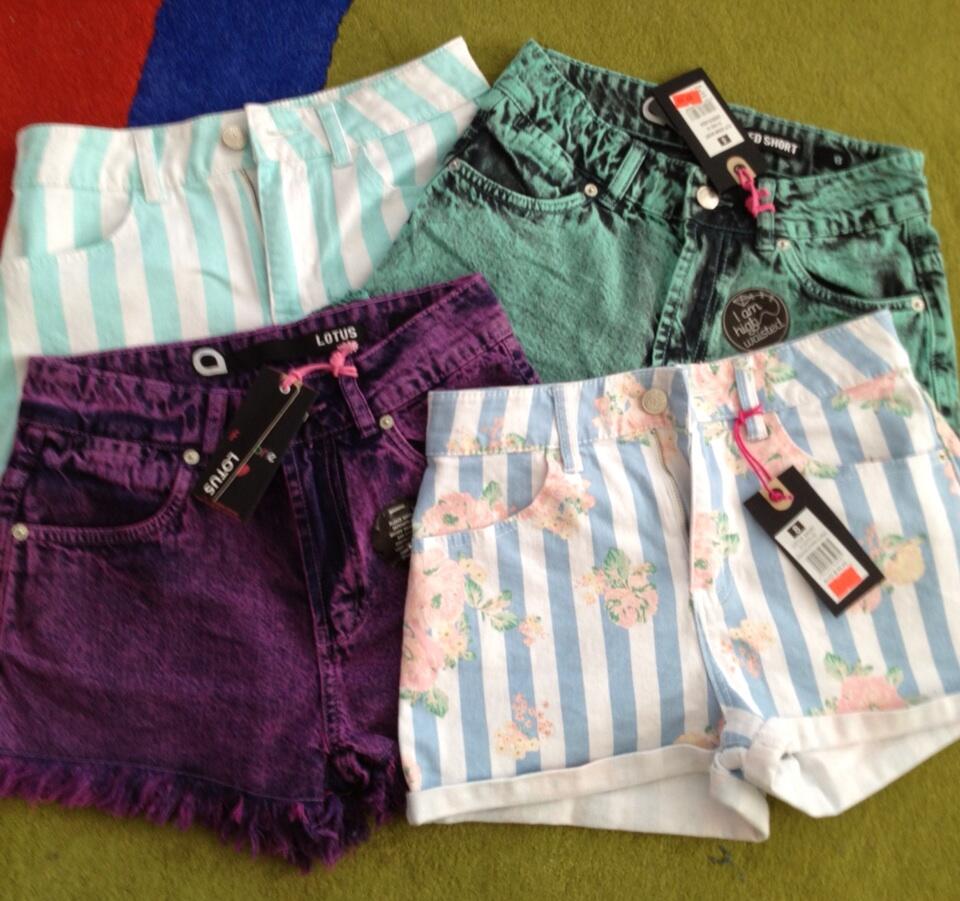 High Waisted Shorts - Factorie . RRP: $39.95 $9.95 EA
Interestingly, these went on sale approximately a week before the actual Christmas Sales ? Like I said , working in a shopping centre has the added disadvantage of knowing where exactly there is a sale . But what a way to add uniqueness to bottoms ! It's a shame they didnt have the conventional blue acid wash .. I guess thats considered too mainstream for them hahaha .. for a reason though however ! I quite like the cyan striped one in the top left hand corner , it's so retro-inspired ! I was going to get a light pink in that exact style but I had something of an internal struggle but when in doubt blue conquers all ! As evident in the bottom right hand corner with the more subdued shade of blue with floral accents. I've been searching for high waisted shorts for ages that didnt reveal half your bare ass and the fact that all four of them was the price of one PRE crazy day sale ? Absolute ludicracy.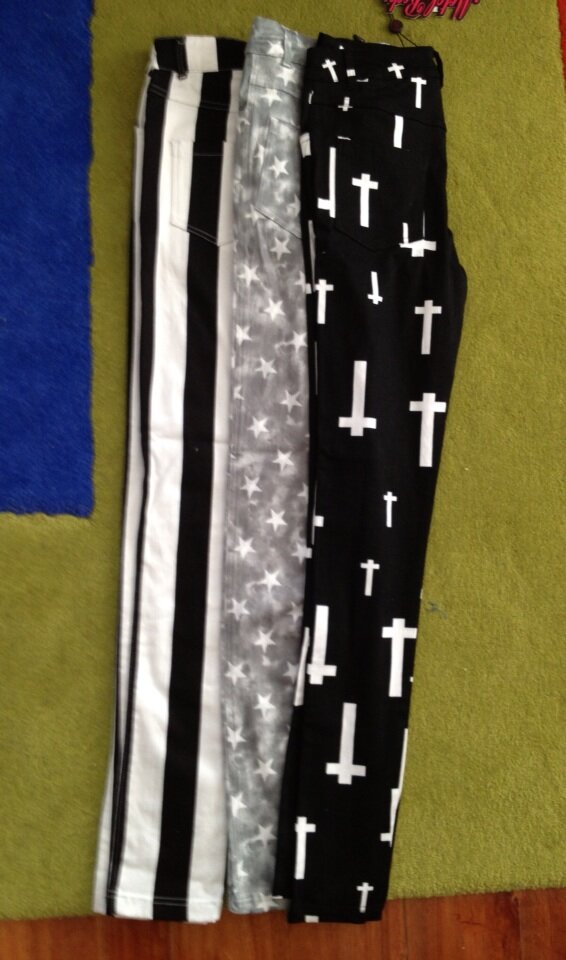 Striped, Starred & Crossed Skinny Jeans - MotelRocks . RRP: $104.99 $30 EA
Yet another crazy sales story that provides a thinly veiled excuse for my ballistic spending . Originally, I had only wanted to purchase the striped skinny jeans as I had seen a blogger / YouTuber wear them and it looked incredible on her ... not that its of indication that in turn it would look fabulous on me (the mannequin paradox , same clothes yet on that cold lifeless , plastic body it seems to look an infinite fold better ) . In any case , I saw them in Glue (yet again not a brand but a store that carries many other popular brands such as UNIF , One Teaspoon , all about eve , etc. ) and pshhh , how dare they utilise the bait and switch method ! They were on display with an assortment of other brand & styles under a sign reading $50 . So I went up to the counter with such jeans only to discover that they were
two
for $100 , thus essentially
making
them $50 at the
price of spending more .
So of course , my cheapness couldnt handle it and I dejectedly placed it back . But then , lo and behold , came the boxing day sales . I was due to start work fairly early so not many people were at the centre at the time . I walked into the store and I think I stood there frozen ..
$30 . whattttt ?
That was even cheaper than before and this was
each .
I was going to be sensible but then I thought ..
wait .
If I buy
three
it would be even cheaper than if I had bought two in the week prior to this , but then I'd be using more money however in the technical sense I'm
still saving money .
I'm usually not one to wear patterned bottoms & I prefer skinny jeans over leggings and this is going to sound outrageously difficult but I dislike leggings as they're more skintight , moreover , you're forced to wear longer types of tops otherwise it just looks weird . My friend commented that they look really hipster ,
pshhh .
I bought them in a size smaller than what I'm used to , no , not because I'm vain , but because hmmm , allow me to phrase this in a way that doesnt cause me to sound like a flimsy late night infomercial .
I suggest you go back a few posts so you can see but lately , I've been striving for a body that I can be proud of . As in , I will able to wear the first outfit I pull out and not have to dismiss it because it sits horribly on me then having to be forced to choose out another ten hundred outfits before settling on the standard loose shirts that I've worn a hundred times over . In the midst of a row with my parents , they brandished me this self-help book dwelling entirely on the power of positive thinking . Half the book was actually in Vietnamese , the other , English , which made it an incredibly fast read . The whole book , was slightly reminiscent of ' The Secret ' a DVD I had been forced into watching by my cousin years prior to this event . So I decided to search up the Secret again and I found an entire section devoted completely to ' Losing Weight ' . This piqued my interest . Okay , okay , I'm not saying that if you do nothing but have positive thoughts you will actually achieve results (contrary to the success stories on that site that may or may not be entirely true) , you actually have to modify your diet and exercise accordingly I know that . However , having a positive mindset does not hurt anyone, rather it benefits you . Depression , misery , stress , negative thoughts .. they do a number on the body and often , you are left drained, exhausted and unmotivated . What about when you're happy ? Suddenly skies are brighter and you do feel like your have bundles of more energy . So I dont think positive thinking is detrimental , even if it doesnt work it still benefits your body ! Back to my original point , so one of the 'guidelines' was to believe that you already have that awesome body you're striving to achieve & when you purchase clothes , buy them in a smaller size instead of a larger one where it seems as though you're setting yourself up for failure . Also , as you walk down the street and see someone with like thin legs , killer abs , etc , visualise that you already have them and eventually , through hard work , you will be rewarded with such ! Abandon words like don't , can't or anything with a negative connotation . Negativity acts as an anchor , the more you have , the more it weighs you down . Conversely , positivity acts like a balloon , pulling you upwards with each bit of happiness you have . Much like the house in Up heheheh . I'm not saying that you have to be fricken smiley and happy 24 hours a day , I most certainly am not . But at least indulge your mind with happiness for the sake of your health .
Now let's step aside from all this disgustingly cherry happiness that is most uncharacteristic of me and turn our attention back to the sale . There is no item that I absolutely regret to the point where I would resell my soul ( if i even have one ) for a refund . Due to the fact that I rarely go retail shopping anyway , I mainly buy online or from eBay and now thrifting because I can get everything for the smallest fraction of a price . My friends call me a brand-whore but I'm just like , hey , if I can afford to buy branded things under 25% of the original price I will . The most I've ever spent was $50 on an anorak from Forever New on eBay , one of my more pricier purchases I admit but still a fraction of the original price . And the reasons why I buy more brands is because they tend to be more reliable in terms of quality since they've made a name for themselves in order to slightly justify them selling at that price . In total , this haul cost me about , $230 . Full priced it would've been , $1040 O__O . Holysmokes. That's like a discount of around 77% @___@ . I say I indeed took advantage of the sales LOL . Speaking of which , as I've said repeatedly , I didnt intend on buying anything . However, I did escort my friends to Boxing Day sales in the city or Sydney .We braved the queues often times feeling like salmon swimming upstream , god, don't even get me started on how long the lines were into TopShop . I remember us going into Zara and my friends staring at the price tags in shock and saying , ' is that cheap ?! ' to which I would respond ' It's cheap for Zara ' LOL . Every shop had a queue that would extend for light years long , eventually we got into this expensive store called Oroton , whereby everything was half price . But even half price , it was considerably pricey hahaha . They spent about 10 minutes deliberating over a wallet, clogging up the queues and they didn't even buy it ! So in the end , after a whole day in the chaos of the city what did they end up buying ? A shirt from Cotton On LOLOL . Ahhh . Ironically the people that were meant to take advantage of the sales didn't and the one that shouldn't did LOL .
Woww , okay . That was exhausting . Keep your eyes peeled for part two of my collective haul , THE THRIFT HAUL ! =D