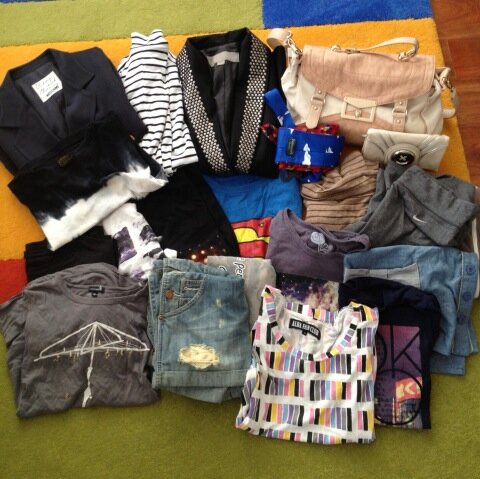 Accumulated Thrift Haul
As you can see , my thrift haul is a lot more vast than my retail haul and thank goodness for that ! (& significantly more inexpensive as well ) . At first , I had the same attitude as most people in respect to wearing clothes worn by someone else . Disgust . I mean , we have no idea what sort of treatment the previous owner put them in for for them to get donated in the first place . Back then , I was very much a tomboy , I would live in the same clothes day after day (granted , I was in high school then so the need to have new clothes or a unique sense of style wasnt that vital . p.s. In Australia, we wear uniforms in school so really the only time i wore normal clothes was on the weekends & because my parents were strict I hardly went out with friends anyway). It started to change when my mum started using eBay as a medium for purchasing clothes . She would buy branded things over the price of a hundred dollars for under 10 and all of it came brand new with tags , I was mystified. Before too long, I started purchasing my own clothes , slowly , piece by piece , filling up my own bare wardrobe .
I dont know when I started feeling acutely uncomfortable out in public in the clothes that I wore. Maybe it was in part due to my 2nd cousin . She was a year older than me but I always felt intimidated by her even when we were children . As we grew older , she begun to mature , dressing fashionably , wearing copious amounts of makeup ... she begun to very much look like an adult and me ? Well... I still wore the same jeans from when i was 12 and that same long sleeved striped shirt .. I had barely changed , I still very much looked like a kid . I had another shock that jolted my system a few years back . Through the wonders of Facebook , I found my old primary school friends that I had left for another primary school . Physically , I cringed as I sorted through their profile pics and then through their normal pics when I couldnt place them immediately . They had changed . And it wasnt entirely to do with the 7 years since I had last seen them . No ... they had all matured much like my 2nd cousin had , they all had the appearance of the 'clubbing' Asian , dyed hair , smokey eyes augmented with thick eyeliner .. I dont know how to describe what I was feeling then , dejected ? No . I think I felt a bit pathetic , everyone was changing , maturing .. whilst I stayed the same . I think seeing that I made a slightly immediate change for me , I got a side fringe . That was when I realised something .
Despite what people say , they judge you based on your appearance at first glance & that included what you wore . I wanted to become that person that you saw at first glance and feel slightly intimidated , thinking , oh wow she's so elegant . Or , wow , she looks so unique , I want to be just like her . It led me to draw the conclusion that fashion was like an art form and that everyone's bodies as they differ from one another entirely act as one's own unique canvas that only they can harness its true potential . Whether you're a few stories tall , curvy , petite etc . how you showcase your best qualities is up to you and your imagination and the possibilities are endless. This is why I want to trim up and lose weight so badly, everything just appears to look good on you when you're skinny x___X.
That was what started my whole affair with fashion . But I'm more reasonable , afterall , money is not a limitless resource so hence why I used eBay and soon developed a knowledge of brands and a penchant for them .. unfortunately . But I dont go out of my way to purchase the full priced item , rather I experience a thrill when I do win something at a fraction of its original cost . Ahh , dont get me wrong , over the years I have been scammed or made mistakes in regards to sizing but I've become more cautious and wary now . However , I admit , I do have something of an obsessive and perfectionist side, something that I and a colleague at work share LOL . When I want something irrespective of how expensive it can become , I must have it.. within reasonable limits but I WILL stalk something for days until I have it within my clutches LOL . Also, when I want something it's usually for a rare particular detail that it has so no substitute will do. I mean , why settle for anything less than perfection especially since money is involved and despite what some may think , I am not wealthy nor is my family . Therefore, I can only ever have the exact item or if i find an item that is even better .
So that's my intro LOL , now in regards to the thrift haul . I went to a variety of places , but first I think I should explain where my love of thrifting arose from .
The beautiful Jenn Im of the Youtube channel clothesencounters
This girl right here . It was actually by accident that I found their channel actually . So there was a girl in my year and she sent the link to another girl saying that she loved these girls (now , I know both of them but we're not close enough to be called friends hahaha ). So naturally I was intrigued and soon I was hooked onto their channel . Back then , as soon as I saw something that I liked , I would automatically search for it on eBay hoping to find an identical one . What I didnt know about these girls was that what they wore centred around thrifting . I kept searching up ' Goodwill' not knowing that it was a large thrift chain LOL . Watching them , my perspective of thrift stores started to alter . I mentioned before how I would buy branded items for a fraction of the cost but I would make sure that the owner had only worn it once or twice before selling it . But that was when I realised I was being ridiculous . Even though they claimed they had only worn it once or twice I had no way of knowing if they had , say , spent an entire day under the sun and started sweating into a shirt . So that's when I thought , heck not , let's give thrifting a try !
Another mini story . So I knew about thrifting when a friend mentioned it . A friend of his had declared that he spent too much on clothes and he took that as a challenge to go thrifting . So I and another friend , decided to challenge him as well since we knew his penchant for brands . Yup, as expected , he took one step inside and ran away screaming ... and then consoled himself by buying a new scarf . yup LOL . From that moment , I had gone once , but like him , I kept being overcome by paranoia that the worn clothes would infect me .. yes, I was extremely irrational .
So after watching clothesencounters, I regained courage to thrift but I still leafed through the clothes somewhat cautiously and then I stumbled upon these ...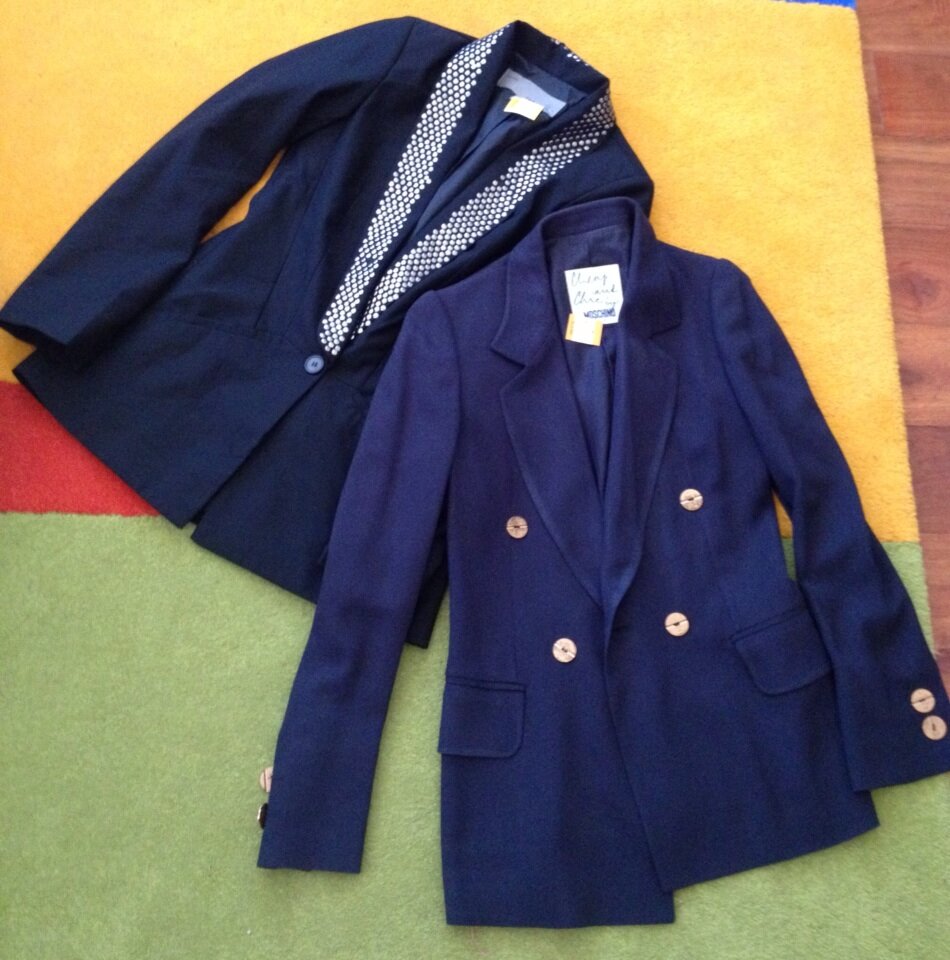 Studded Lapel Blazer - Zara ($10) & Navy Blazer - Moschino Cheap & Chic ($15)
I was more reassured when I came into the blazer section since more often than not , coats and the like are worn over other clothing so it's the article of wear that has the least contact with skin . But omgosh . When I came across them , I froze . This was because I wasn't in a wealthy area which all the more , made the finds even more astronomical in worth . But that was what set the gears in motion , if I could find things of such expensive brands near my area .. that just opened up a new door of what ifs and I was sold . I was ready to dismiss being able to have gold fall finds at all in any opshop in Australia. From what I've seen on YouTube , the thrift stores in America appear to be so much better and vast that ours . If thrift stores in Australia were the size of grocery stores then the ones in America are equivalent to supermarkets . Plus , they seem to carry more unique , vintage and I suppose more young people friendly .
I kept putting off this post as I continued to thrift after taking these pictures , all the while, adding more clothes to the pile and then I realised how redundant it was of me to continually put it off as unlike with retail shopping there isn't really a limit on thrift shopping due to the extreme difference in cost . So, I decided to just go the hell with it and just upload my more dated purchases without being too concerned of the recent purchases . Plus, I have yet to see a thrift haul from Sydney that involved more I guess ' young-adult' type shopping purchases , so without further ado, let us continue with this haul .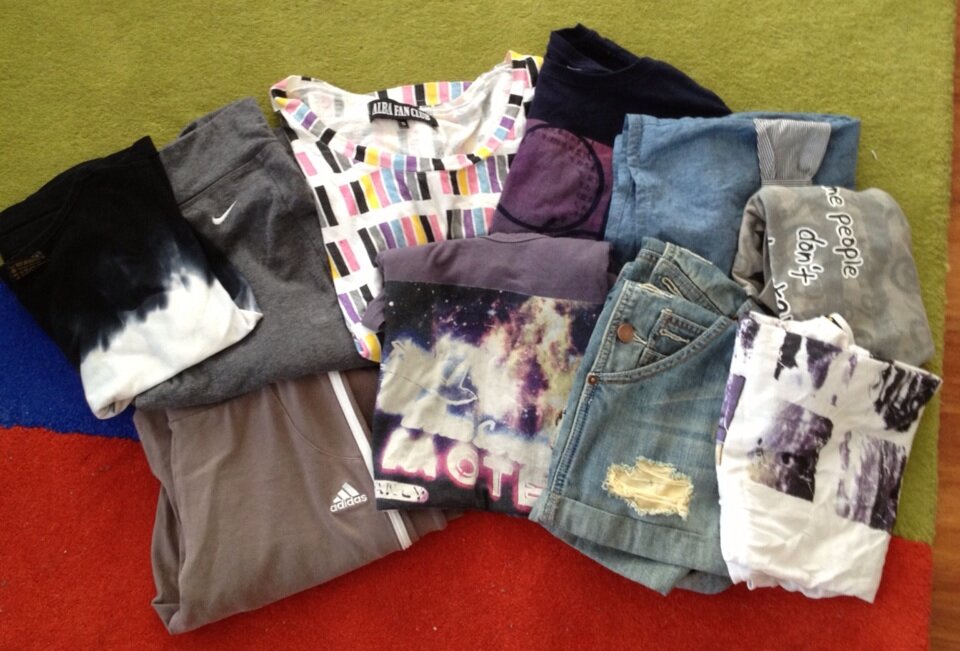 The Haul from the Hill with a fixed Summer .
12 items for $16 which is equivalent to approximately $1.45. So what is this magical place ? Basically its an Anglicare warehouse in Summer Hill (for me , it's actually more convenient for me to walk from Ashfield station as I wouldnt have to change lines) where all the donated clothes are shipped to before they are sorted out then distributed to other places around NSW . The thing with this place is that there is absolutely no discernible order and clothes upon clothes upon clothes are placed in massive containers that are about my height in depth . Advisable that you go with friends so that you can sift through the clothes better . But be warned , you must come with oodles of patience and not be discouraged as real gems DO lie in wait to be discovered. It's utterly worth it as the price is dependant on weight, $8/kg . An extremely good deal as things like tops dont weigh as much but reading other blogs, they have appeared to increased the price as before it used to be $6/kg, but nonetheless , $8/kg is still an incredibly good deal just not as good as the previous one haha . I also found two tracksuit pants in my size which look hardly worn ! A grey one from Nike and a brown from Adidas .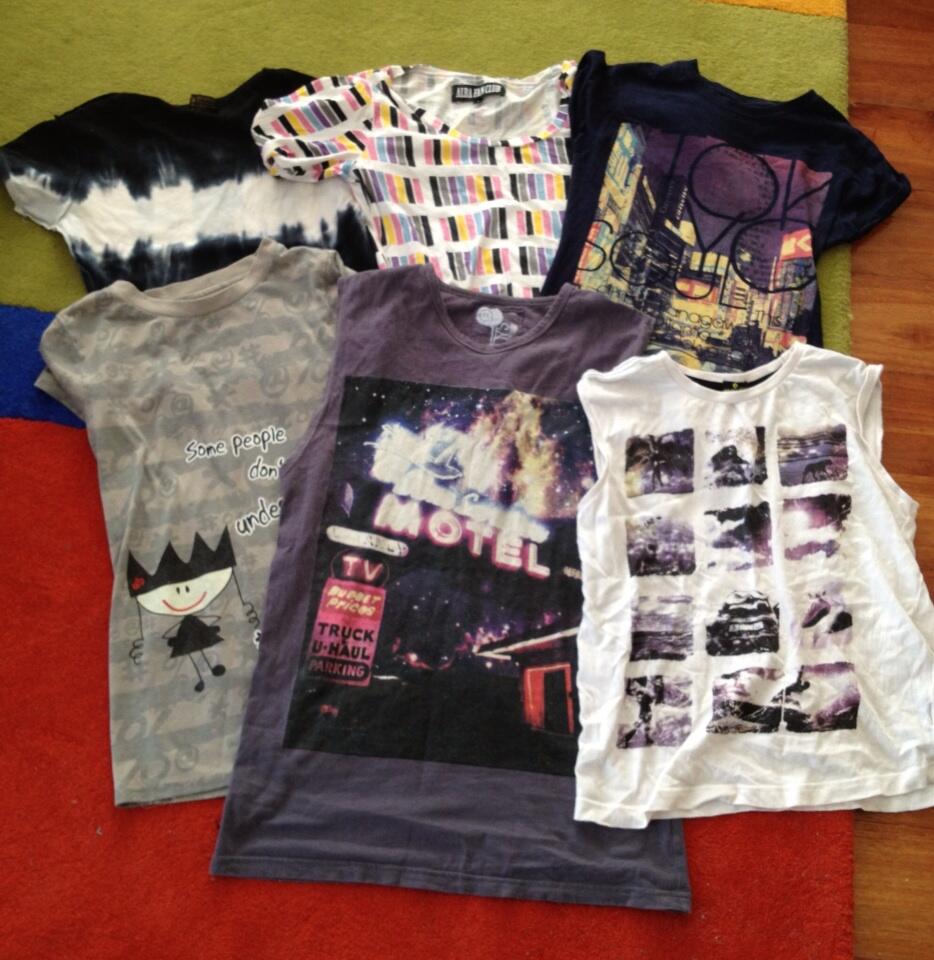 The T-shirts & muscle tees that I got
I got quite a few unique graphic tees as well as some muscle tanks that I was ecstatic to find .. well my friend found them but details . I was about to succumb to buying the ones from Glue for $20 (due to the aforementioned Christmas sales ) or UNIF ones (which hover around $60 in price) so I was immensely glad that I held out and was well rewarded for my patience. Plus, the one in the bottom centre has galaxy-inspired colours , a bonus I didn't expect. The Tokyo top in the top right hand corner is actually from River Island and in a sz8 , it's so immensely rare to find small sizes in thrift stores so I was immensely surprised when my friend unearthed it .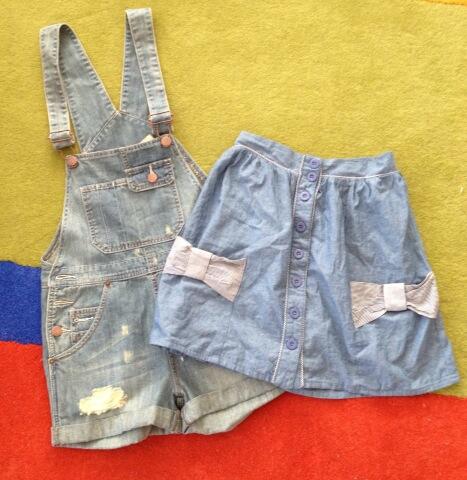 I can't believe that I found these especially in a small size as really , I can't emphasise this enough but thrift stores seem to mainly consist of much larger sizes . Some you could easily pass off as the oversized style but some you can't . Those overalls are a sz6, from the brand Subtitled, which is carried by General Pants & Co. and could be easily worth perhaps $40- 50 ? Perhaps even more . The skirt too is worth an exuberant amount as its from the brand Mink Pink possibly around $40 ? It's a sz 10 but it has an elastic waist allowing it to fit more like a sz 8 . I love the details of the skirt and they have actual pockets ! These two items alone , could easily quadruple the price that I got everything for so I feel incredibly lucky ! Finds like this is what makes sifting through piles of clothing so worth it . And that ends the Summer Hill portion of the haul .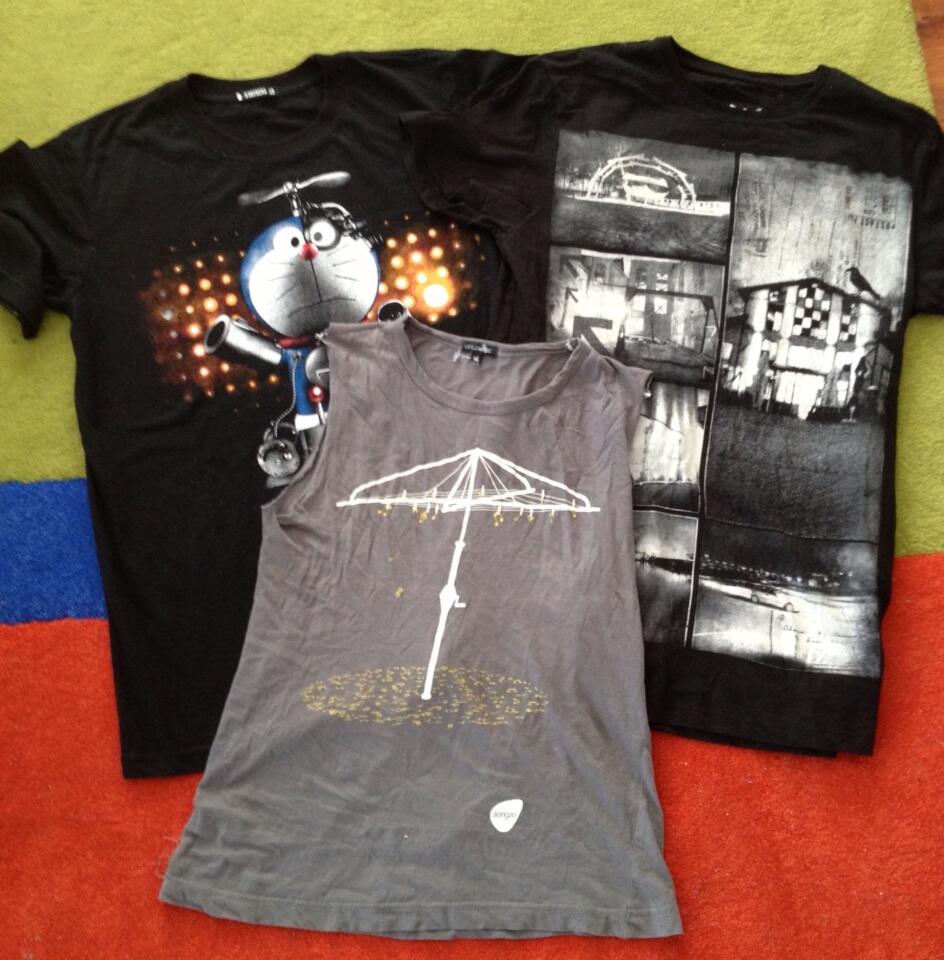 I can't remember the exact location of these places but I believe they're from Fairfield & Liverpool . Liverpool is a miraculous place for thrift stores just in one tiny corner alone , there were like 4 stores! Just look at it , killer Doremon ! Hehehe . I loved the graphics of the other shirt , I seem to gravitate more towards the designs of men's shirts strangely , as I find the women ones at thrift stores are often times just so incredibly tacky or dated , with sequins and the like , overall , making it look extremely juvenile. The one in the centre was originally a t-shirt which I just cut the sleeves of . There was a deal at the time , 4 things for $12 so essentially it was only worth $3 ! I also gave my friend another shirt that I wished I kept but he really liked it so I gave it to him hmphhh . It was from an expensive brand called the T-bar where all their shirts are $40 .. and I only got it for $3 and it looked hardly worn ! I believe the other two shirts were under $6 .. I cant remember the exact price as it's been awhile haha .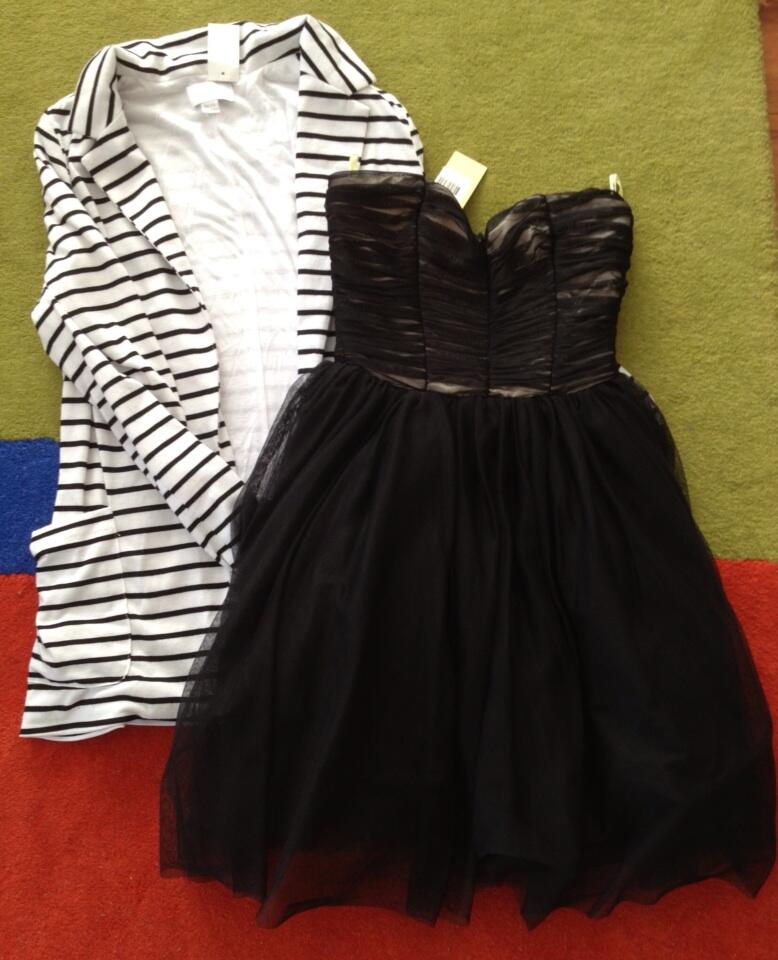 Striped Cardigan/Blazer - $8 & Dress - $18
I got these two things from Burwood on separate occasions . This time I went with my best friend and she got scammed by the sales assistant so hard . She just kept buttering her up and she ended up buying a vest for $15 ! I wanted to say something but it would've been rude if I was but urghhh . The poor , innocent naive girl ... It was a nice item and yes, it IS cheaper than an retail store & brand new .. but its expensive for a thrift store . Nonetheless , I doubt we would be returning to that place again . But since there were more than one in the store and it actually looked good , now my friend is overcome with the desire for us to share clothes like cliché characters in a bad Hollywood movie LOL. The striped jacket is more a hybrid between a cardigan and a blazer ; it is immensely soft ! I can't waity for the weather to freeze over so that I can wear it and , and , IT HAS NUMEROUS FUNCTIONING POCKETS ! All for $8 , and it looks hardly worn ! The dress is more from the pricey side and not much justification can be done haha. It's branded though , an expensive Australian brand called Bardot and still had tags attached to it , $119.95 O__O and I got it for $18 ! Not a bad deal but now I demand that someone make a cocktail party that I can attend so I have an excuse to wear it ! Hahaha .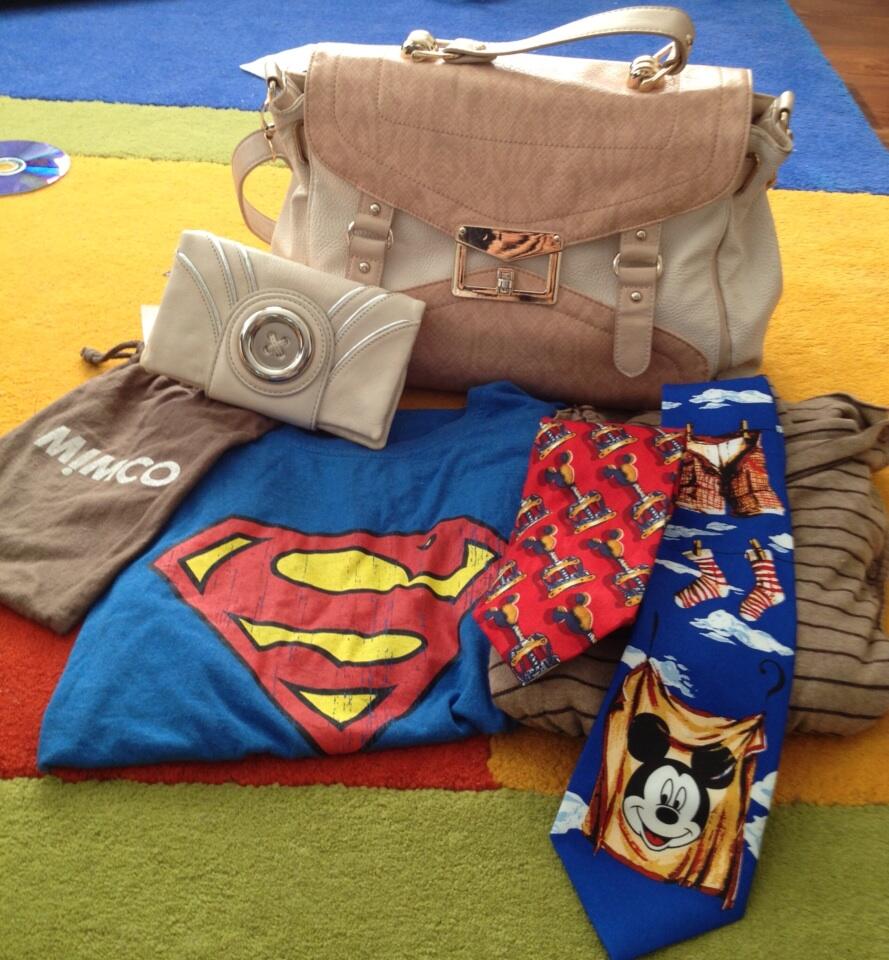 Mimco wallet - $5 , Forever New Satchel - $10, Superman Top - $6 , Assorted Disney printed ties - $1 EA
All this was once again from the Liverpool area which is.. utterly fantastic . I can't believe I found that Mimco wallet for $5 ! It's hardly used AND it even came with its dust bags . Mimco wallets , minimum are worth $140 so this was a massive steal O__O . I was just about to leave when I saw this on the counter behind the sales assistant and I asked to see it , sure that another wallet was to be in the dust bag but when I uncovered it .. omg... Now I dont need to be concerned about upgrading my wallet anymore ! The bag too , was another steal. That bag is estimated to be worth about $60 Since it's from Forever New . But, I've been looking for a pale pink satchel bag for the longest time ! There was this one that I contemplated buying when I was in one of those Korean fashion stores splattered around Sydney , they were 30% off but still costed like $103 O__O . No way would I fork over that amount of money for something that wasnt branded . Moreover , with this bag it has like a reptilian print & its pastel pink! , intricate details that I love . For now I'm satiated hehe , but eventually I will find a more a ps1 looking bag .
I've been looking for a slouchy , comfortable tee for awhile with the superman logo on it , after seeing SNSD's IGAB music video , now I just have to look for a long sleeved raglan batman logo tee ! The ties were more of an impulse buy but they're Disney ! The price tag said they were $3 EA but they were placed in the $1 section so I got them for $1 each ! AND they're authentic Disney ! Also from Liverpool , I got a Me To You bear for only $1 (Not pictured above) ! AND it was still in its box ! AND they were ' lucky ' themed so they were green ! The favourite colour of the friend who had a massive fetish with these years ago ! Coincidence ? I BELIEVE NOT ! Especially since we were meeting up with her later in the day which I immediately gave to her . She was so happy ! Hahaha , she's inadvertently benefitted from my love of thrifting as just recently I gave her a Masterchef cookbook , brand new , FOR ONLY $5 !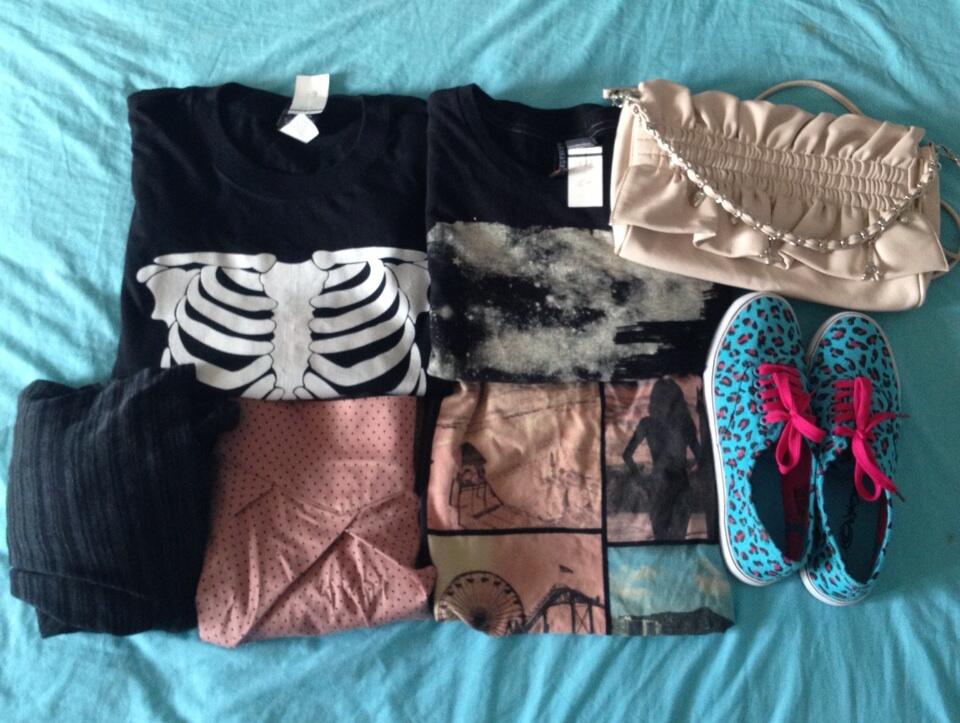 Upper two shirts for $5, Forever New bag - $8, Cardigan - $3 , H&M pastel pink polka dotted skirt $6 , Shirt - $6 , Shoes - $5
This newer haul is from Blacktown . Another incredible place ! Unfortunately , it's so far ! But I guess the finds more than make up for it . The first thrift store we went into is where I found the items on the bottom row sans the shoes . They were having a green tag 50% deal which explains the cheap price of the cadigan . The shirt is so SOFT and comfortable ! My friend found it for me ! The skirt is from H&M with its tags still attached ! $25 ! I got is for $6 .. which was probably what influenced my decision to buy it =/ , the brand haha . The store that I got from the 2nd thrift store had a few specials going on . 2 shirts for $5 and all shoes for $5 ! NOW I WISH I HAD BOUGHT MORE LOL. I was so surprised when I walked up to the counter as each shirt was $6 so when she said $5 I thought she meant each when in actuality it was together . I think I started at her in shock . So it went from $12 --> $5 like what on earth ?! Regarding the shoes ... I typically don't like the Vans style , I truly think they're hideous . I prefer Converse . But these were only $5 and it had a unique print ! Electric blue with pink leopard print ?! It was hardly worn at $5 ! There were other shoes there as well, again only worth $5 which I utterly regret not buying now .. hahaha .. maybe I should go back LOL . They are a sz 8 though , a bit too big as I'm usually a sz 7 so I stuffed in a bit of paper at the toes and it fits just fine LOL. The shoes are incredibly comfortable as well ! Much to my friend's dismay though , I still have not warmed up to Vans hahaha even though I was forced to royally eat my words . The bag was another incredible Forever New find . ONLY $8 ! It would've easily been worth $40 ! AND IT WAS BRAND NEW ! And it's short chain was reminiscent of the Chanel strap there were multiple charms adorning the chain as well ! Including the Eiffel tower , a nice touch . So I'm incredibly ecstatic about my finds ... I can't wait to go back !
And that so concludes my thrift haul ! .. Despite the fact that I have a lot more items that would make this post more lengthier than it actually is but I've put this off for far too long now hahaha . Expect to see more thrift hauls in the future ! Also, could anyone recommend to me places in Sydney ? Please do not name 'vintage' stores as they're so much more pricey than your regular opshop ! Please also tell me abour your experiences and what you got! Thank you .

Locations mentioned : Blacktown:
Vinnies Blacktown, 23 David Street BLACKTOWN, NSW , 2148

Smith Family, 80 Main Street, Blacktown

Salvos Blacktown Family Store, 166 Main Street BLACKTOWN
Burwood:
Burwood Red Cent, 36 Railway Pde, Burwood, 2134 Smith Family - Burwood, Shop 38-40 Railway Pde, Burwood Vinnies Burwood, 143 Burwood Road BURWOOD, NSW , 2134
Fairfield:
Vinnies Fairfield, 101-103 Ware Street FAIRFIELD, NSW , 2165

Smith Family - Fairfield, 97 The Crescent, Fairfield Fairfield Salvos, 8-10 Hamilton Road, FAIRFIELD 2165
Liverpool:
Smith Family - Liverpool, 265 George Street, Liverpool Vinnies Liverpool, Shop 4 Appin corner,cnr of Macquarie & Elizabeth Streets LIVERPOOL, 2170 Lifeline Liverpool, 66 Macquarie St Anglicare, 62a Moore St, Liverpool NSW
Summer Hill :


Anglicare, 105 Carlton Cr. Summer Hill, NSW 2287.